Podcast: Play in new window | Download
Rainn Wilson is an actor most known for his Emmy-nominated role, Dwight on the American version of The Office. Wilson founded the website SoulPancake. Since its launch in March 2009, it has had over 1 million visits, and has been featured on Oprah Winfrey's Satellite Radio Show.
I love Rainn's website, SoulPancake so much because there they tackle all those huge life topics that we all think about but don't always ask. It's is a place to speak your mind, unload your questions, and figure out what it means to be human. Their mission: 'We want to make discussions about Spirituality, Creativity, and Philosophy cool again.' 
I thought he would get a kick out of having his own rap song. Click the play button on the player above. I did this because out of nowhere, I had a whim to have one made for KirstyTV for $5 on fiverr.com and it was so hilarious that I then had to make a parody rap music video to go with it!  Naturally, I would like it to go viral, so I'm having a sharing contest this week. Share iJustine's rap song, my rap music video, or any of my Facebook posts and tweets this week and you are in the running for some awesome prizes. Just be sure to tag @KirstyTV or #TeamKirstyTV. Read this post for the Rap Song Sharing Contest prizes. One of the prizes is your very own custom rap song! Too fun.
I decided to spread the fun even further and get some raps songs made for other friends, popular YouTube vloggers, and celebrities too! So every day this week will be posting them live.  Perhaps they too will be inspired to go gansta and freestyle it in their own rap music video? Who knows… So Share, share, share! and help us get the word out on the street.
Watch my K Diary video where I talk about transforming into a rapper and how it's such a great creative marking tool.
Follow SoulPancake on Twitter at @SoulPancake and on Facebook!
Here is a great SoulPancake video where Rainn Wilson interviews Larry King! He takes the legendary interviewer Larry King for a spin in the hot seat (the back of Rainn Wilson's 1970s van). He asks for answers to life's big questions!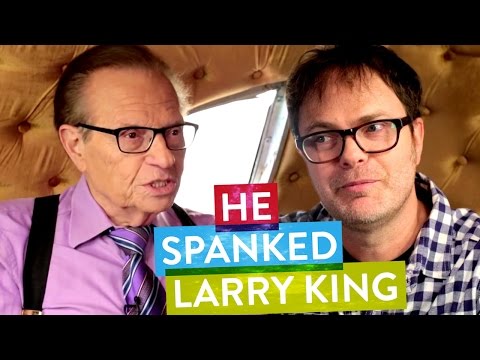 Stay tuned to www.KirstyTV.com for more exclusive and uplifting interviews. We will be sharing inspirational stories from everyday people, celebrities and experts every week.
Comments
---